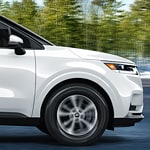 The Kia Carnival's interior offers flexible seating and plenty of space for cargo. If you love to travel, you'll also love the convenience of having an easy-to-access interior. There are also great entertainment options inside the Kia Carnival.
When you stop by Autoworld Kia in East Meadow, NY, you can check out premium interior features such as the smart power doors and tailgate to access the interior. There are also lounge seating options for the 2nd row of seats, making it easy to relax while traveling.
The interior for the Kia Carnival also has a multimedia entertainment package available, which features two screens and device mirroring. There is also an intercom system in this Kia, so you can easily talk to the back rows allowing everyone to have a quieter tone.