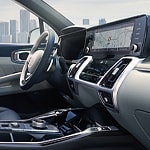 If you are looking for a Kia vehicle with premium technology features, stop by Autoworld Kia and check out the Kia Sorento. While in East Meadow, NY, don't forget to ask our team to show you the connectivity options with the Kia Sorento.
The technology features for the Kia Sorento start with the 10.25-inch touch screen. With this touch screen, you can access SiriusXM satellite radio and navigation features. You will also be able to access the information on your smartphone if you sync it to your Kia Sorento.
Some other technology features for the Kia Sorento are the remote start and climate control that you can access from your smartphone. There's also a vehicle voice control and remote lock. These are great features to use in your home as you are getting ready for the day or if you think you may have forgotten to lock your vehicle; you can make sure that it is safe and sound from the convenience of your smartphone.