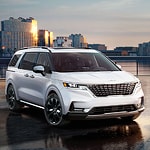 Whether your idea of automotive performance includes engine power, towing capabilities, remarkable reliability, or all of the above, you're sure to be impressed by the popular Kia Carnival. To learn more about why one of these great multi-purpose vehicles deserves a spot in your garage or driveway, stop by the showroom here at Autoworld Kia today.
The Kia Carnival's standard powertrain includes a V6 engine and an eight-speed automatic transmission. This well-designed combination is prepared to supply up to 290 horsepower for commuting, business travel or simply navigating through your daily routine in East Meadow, NY.
A top-end towing capacity of 3,500 pounds will allow you to pull a camper, outdoor toys, or other personal gear with your Kia Carnival. You can also rest assured that the Kia Carnival line-up has been subjected to a wide range of extreme tests in an effort to ensure that it's ready for almost anything.